Make an impact.

Evolve your career!
News / Blog
Filed in: Uncategorized
Comments Off

on Ways Technology Can Help the Differently-Abled Advance Careers
Guest Blog Writer – Patrick Young, Able USA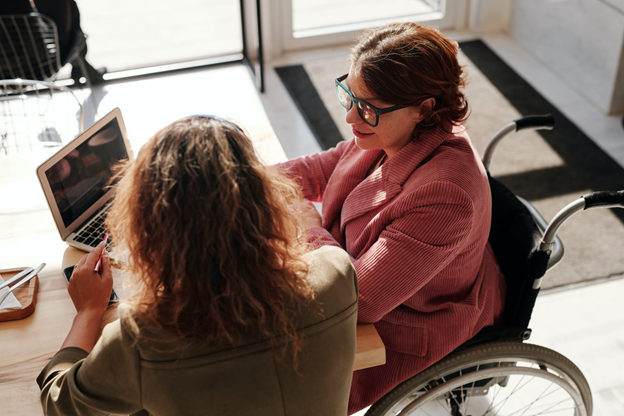 While disabilities have historically been a barrier to career advancement for differently-abled individuals, technology has made it easier to learn new skills and pursue more types of careers. From remote learning to home-based business opportunities and assistive technologies, technology has opened new doors for many with disabilities. For career guidance, Evolution Career Consulting is a great resource for those looking to advance professionally.
Remote learning opportunities
As the pandemic precautions remain in many places, most universities and other learning institutions have moved to remote learning on a large scale. This can be to the benefit of people with disabilities, as learning from home is often more accessible.
There are many degrees that can be obtained online now — even healthcare degrees have opened up to support online learning. Online courses in healthcare range from nursing to healthcare management and health service coordination.
Beyond healthcare, online degrees are also available in information technology management. This can be a great choice for those interested in computer science—it's a growing field, and offers multiple career options that can be done remotely.
If you're interested in communications, marketing is a degree that can easily be done online. Marketing graduates can work in a number of industries including non-profits, government offices, and private companies.
Home-based career options
Today, more jobs than ever can be done remotely. For people with disabilities, this opens up more work opportunities as employers broaden their hiring pool.
Another option for remote work is starting a home-based business. Business ideas can range widely, so determine your interests and abilities when deciding what kind of business you want to launch. If you're sales-savvy, selling goods online is a great option. Or, if you're a writer, starting a blog or turning to freelance work could be a great way to earn money.
Many small business owners who work from home require the bare minimum of technology: just a laptop, a mobile phone, and an internet connection will allow for most businesses to operate. If your disability requires you to obtain additional technology to do business, look into assistive technologies that can help.
Assistive technologies
The range of technology designed to assist people with disabilities has grown considerably in recent years. Tools such as screen readers, adapted keyboards, and speech recognition software can help differently-abled workers use technology with far more ease than ever before.
One great tool for the visually impaired is a screen reader. Screen readers can convert everything from text to buttons and images into speech or braille, allowing the blind to read emails, navigate webpages, and surf the internet. Along with screen readers, braille keyboards exist for visually impaired users to write messages, type emails, and conduct search queries.
Speech recognition software is another assistive technology that's helpful for people with a range of disabilities. Speech recognition is often used by the blind but is also helpful for those with mobility or cognitive disabilities. It converts speech into text, and can also be used to navigate devices and perform various tasks.
For computer-users who have mobility challenges, joysticks can be helpful for controlling a mouse cursor. Similarly, tracking balls and head pointers can help those with mobility disabilities use technology with more ease.
While your disability may prevent you from some in-person activities, technology today allows for a broader range of opportunities in career advancement and further education. Look into remote learning options if you want to upskill or gain a new degree, and consider a home-based business that will allow some flexibility in your daily routine. And remember to seek out assistive technologies that will make it even easier for you to work and study using your computer.